Children's books
The 'Rather Remarkable Grizzly Bear' series (O'Brien Press) features a grizzly bear recently escaped from the zoo and looking for a cup of tea! 'Marco Moves In' was shortlisted for the Irish Children's Book of the Year (Junior) category at the Bord Gais Irish Book Awards 2011.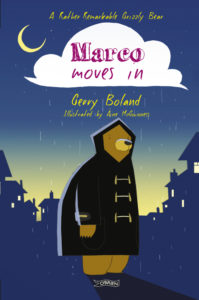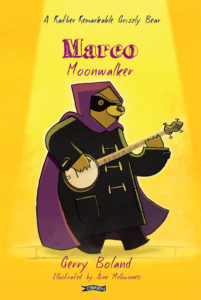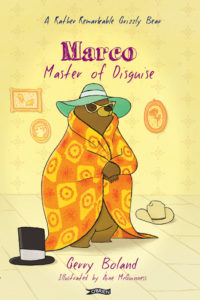 Such a loveable story, by the end you will wish you had a grizzly bear as a friend,
… "Mad about Books"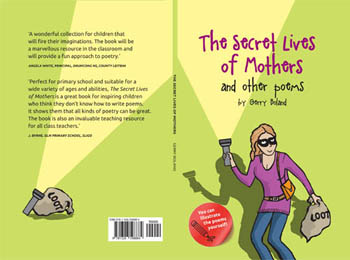 'The Secret Lives of Mothers and other poems' (2016) is Gerry's first book of poems for the young reader. It is a wonderful collection of 50 poems for children of a wide variety of ages and abilities. It has proved to be a great teaching resource in primary schools.
Click here for poems from 'The Secret Lives of Mothers'.
Adult books
His first collection of poems, 'Watching Clouds', was published by Doghouse Books in 2011, and his second, 'In the Space Between' (Arlen House) appeared in 2016. In 2011 and 2012, O'Brien Press published his trilogy, 'A Rather Remarkable Grizzly Bear', the first of which, 'Marco Moves In', was nominated for an Irish Book Award. He has written two travel books on his native city, 'A Pocket Guide to Dublin' (1994) and 'Stroller's Guide to Dublin' (1999), both from Gill & Macmillan.
****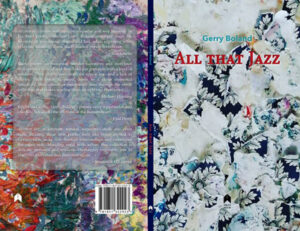 'All That Jazz' is Gerry's third poetry collection and his second with Arlen House. It's a deeply personal collection, dealing primarily with matters of the heart and also containing meditations on the passing of time, on the mystery of the elusive muse, and on the miracle of being alive.
Listen to Gerry talk about All That Jazz with Charlie McGettigan on Shannonside/Northern Sound here:
Back cover endorsements
All that Jazz brims with insight, empathy and wry humour. In his third poetry collection Gerry Boland movingly maps the territory of love found, shared and lost, while exploring what gives life meaning. These finely-crafted poems reverberate.
Jane Clarke
These poems are beautiful; slender narratives and storylines that are easy to read and they hold our attention with a kind of wisdom. Their clarity rises from the sparse line, and a lack of clutter. Each poem is pared down to a clean elemental simplicity. And a sense of equanimity runs through the entire collection and makes reading them an uplifting experience.
Michael Harding
Bright and lively, Gerry Boland's poems carry a particular and effecting fidelity to the rhythms of the human heart.
Paul Perry
All That Jazz is intimate, natural, sometimes dark and often light. Reading these new poems feels like being invited to Gerry's table as he sifts through relationships and comes out the other side. Mingling rural with urban, this collection is delicate, personal, and resilient. Thoroughly enjoyable, one to read cover-to-cover and then over again.
Jessamine O Connor
****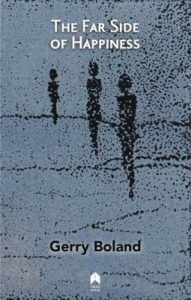 Gerry's debut short story collection, 'The Far Side of Happiness' (Arlen House, 2018), brings together 16 intriguing situations in 16 stories, populated by a cast of complex and varied characters. The reader is taken from cosmopolitan Paris to rural County Carlow, finishing in the writer's native Rathmines with more than one twist along the way. Listen to Gerry being interviewed about 'The Far Side of Happiness' on Ocean FM's Arts House show, click here.
For review in The Irish Times click here.
To read Carlow from 'The Far Side of Happiness' click here.
****
'In the Space Between' (Arlen House, 2016) is Gerry's second book of poetry. The title poem was runner-up in the 2013 Gregory O'Donoghue Poetry Competition. Adjudicator Thomas McCarthy commented that it 'could only have been engineered by a highly sophisticated poetic talent' going on to say 'This is one of the best, and certainly one of the most heart-wrenching, love poems that I've read in the last few years.'
Click here to read poems from 'In the Space Between'.
Gerry reading Angelou
****
'Watching Clouds' (Doghouse, 2011) is Gerry's debut poetry collection. The late Dermot Healy, acclaimed poet and author, called it 'a rare collection of poems…filled with insights that are astonishing and ironic'. He continued, 'It takes a rare voice to successfully contain them both, and Gerry Boland has that gift.'
Click here to read poems from 'Watching Clouds'.
Gerry reading Gardener's Dream
****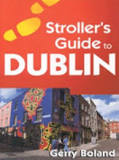 'The Strollers Guide to Dublin' (Gill&MacMillan, 1999) details 15 walks around the author's native city including both short city centre walks as well as longer ones which include Georgian and Victorian Dublin.