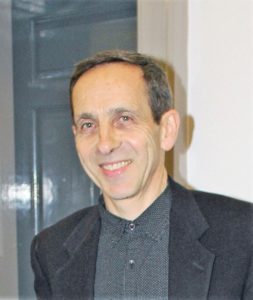 Gerry Boland is a poet and author. He was born and lived for much of his life in Dublin and moved to north Roscommon in 1999.
His first collection of poems, 'Watching Clouds', was published by Doghouse Books in 2011, and his second, 'In the Space Between' (Arlen House) appeared in 2016. In 2011 and 2012, O'Brien Press published his trilogy, 'A Rather Remarkable Grizzly Bear', the first of which, 'Marco Moves In', was nominated for an Irish Book Award. He has written two travel books on his native city, 'A Pocket Guide to Dublin' (1994) and 'Stroller's Guide to Dublin' (1999), both from Gill & Macmillan.
He has also published a collection of poems for the young reader, 'The Secret Life of Mothers', and his first collection of short stories, 'The Far Side of Happiness' appeared in 2018 from Arlen House.
Gerry was Writer-in-Residence for Roscommon County Council in 2013 and again in 2014. He is an experienced workshop facilitator and regularly leads workshops for adults and for children.